All Belle Eyelashes

Specialised Eyelashes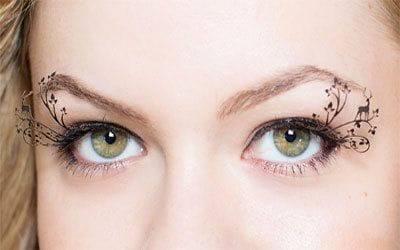 Ancient Chinese Dynasties were known for their elaborate, daring make up, even by today's standards, thus inspiring ALL BELLE to create PAPER & LACE lashes plus traditional lashes, reinventing false lashes from the most natural to the most exotic.
"The importance of False Eyelashes to eye make up, is the same as a dress to a figure."
PAPER LASHES:
Unique material exclusively developed for All Belle paper lashes
Each lash style designed into delicate and intricate patterns
They will not soften or lose shape in normal to humid temperatures
LACE LASHES:
The amazing character of this net material to make these lashes so fancy - charming
Keeping the natural c-curve of the lashes in 3D concepts
All Belle lashes are light, flexible, easy to shape and fit any eye
So many styles in Short, Medium & Large, also in Light, Medium & Dark colour density
The choice is yours, go natural, go crazy or just cut and fit to the outside edge only
Long lasting when stored correctly - keep away from heat or flame
APPLICATION TIPS & HINTS
Choose the style you want then measure and trim from the outer edge to fit your eye
Gently hold each end and roll into a curve, this way they will fit the curve of your eyelid or fold the lashes around a pencil to soften the spine creating a curve
Oil on the skin of the eyelids can cause the glue not to adhere, blot with tissue to remove any oils
Use a good magnifying free standing mirror
Apply adhesive to spine/band of the lashes, use the All Belle Applicator to hold the lashes, add a little extra glue to outer edges to obtain maximum adhesion.
Apply a small amount of glue to your thumb, after a few seconds pinch your forefinger to the thumb, if the glue feels tacky and you can feel the strength of the glue, then your lashes are ready to be applied. This is a very importatnt part, and will often depend on the temperature around you, in colder situations the glue may take longer to become tacky.
Place your mirror ready in front of you, on a flat surface, place both elbows on this surface. This steady's your arms and make your hands work with more precision, giving the perfect angle look down into your mirror - the All Belle applicator is a great tool as with its non sharp edges enables you to hold the lashes firmly and make any necessary adjustments.
Working to fit the band close to your natural lashes on the edge of your eyelid, press firmly and adjust where necessary.
Apply mascara and or eyeliner before applying lashes to prevent clogging of the false lashes and helps blend more easily with your natural lashes.
All products are SGS certified and medical grade GAMMA RAY sterilised, safe to use, unique process to All Belle Products.
| | | | |
| --- | --- | --- | --- |
| Natural Lashes - Single | Natural Lashes - 3 Pkt | Lace Eyelashes | Paper Eyelashes |
| Eyelash Glue | Eyelash Applicator | Eyelash Compact | 3 in 1 Kajal & Eyeliner Gel Pencil |
| Liquid Eyeliner | | | |